Meet Dr. Cindy B. Nichols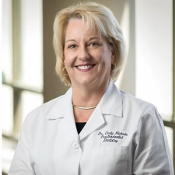 Cindy B. Nichols, DMD MS, is a Prosthodontist/Maxillofacial Prosthodontist based in Columbia, South Carolina. She has been a member of APS since 2010.



What about prosthodontic dentistry originally drew you in and what excites you about the field today?
"I entered prosthodontics because we are the engineers of the stomatognathic system. I love to make the pieces of the puzzle fit and work properly as it relates to teeth, muscles, anatomy, and forces. With the recent evolutions in implant and restorative dentistry, dental treatment to promote health, wellness, and beauty make prosthodontics a truly rewarding profession."

Why did you become a member of the American Prosthodontic Society?
"I became a member of the American Prosthodontic Society by invitation of Dr. Joseph Huryn. Dr. Huryn was my Maxillofacial Prosthodontic Program Director at Memorial Sloan Kettering Cancer Center and he continues to be a mentor to this day. He referred to the society as an intimate group of individuals that can be described as true friends that want to help each other. He encouraged me to attend a meeting and meet fellow colleagues, who are as passionate about prosthodontics as we are. Since then, the American Prosthodontic Society is a portion of the fabric of who I am as a Maxillofacial Prosthodontist."

What advice would you give to a new dental professional?
"I would advise new dental professionals to get involved and support your local and national dental societies. Dental professionals learn from each other, and there is no way to learn except for spending time together and sharing information and experiences."

What do you enjoy doing outside of work?
"Outside of work, I am first a family person and then an outdoor person! I love water and fresh air and green leaves and sunshine!"


If you are interested in being featured or know a member who should be featured, please send an email to APS Senior Account Coordinator Lynn Reeves at
Lynn@res-inc.com