MEET Dr. Francisco "Paco" Cortes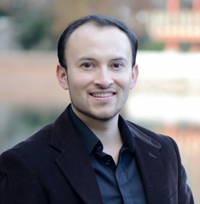 Introducing Dr. Francisco Cortes, DDS



1. What about prosthodontic dentistry originally drew you in and what excites you about the field today?
"My interest in Prosthodontics began during my second year of dental school at UNITEC, Mexico City. My first Fixed Prosthodontics course was run by my dear friend and professor Dr. Jesus Santos. Very early in his course, I felt compelled by the impact of prosthetic dentistry in patients' quality of life. I love teaching at UT San Antonio and working on implant dentistry at my private practice."

2. Why did you become a member of the APS?
"During my first year as a Prosthodontics resident at the University of Rochester, I had a memorable experience while presenting a poster at the APS. I was impressed by the camaraderie of the Society's members. Some of my best friends, I have met at the APS Annual Meetings in Chicago."

3. Who has been your greatest mentor thus far in your career?
"Dr. James Hudson. Jim invited me to participate in the APS Summer Strategic Meeting many years ago. Jim was kind to walk me through the APS structure and committee work. Today, I continue to learn from him and many other APS mentors. Jim has become a true friend and role model."

4. What advice would you give to a new dental professional?
"Surround yourself by people that you admire and learn from them. Join the American Prosthodontic Society. Get involved and collaborate with the committee work. This will provide you with fantastic networking and mentorship opportunities. You will be surprised at how rewarding this is on so many levels!"

5. What do you enjoy doing outside of work?
"Sharing time with my family. An afternoon in the park and dinner with my daughter and wife are my everyday pleasures. The beach is the perfect destination to build new memories."
If you are interested in being featured or know a member who should be featured,
please send an email to APS Senior Account Coordinator Lynn Reeves at
Lynn@res-inc.com
.