American Prosthodontic Society (APS) Awards
Golden Medallion Award
The American Prosthodontic Society (APS) has selected Dr. Salvatore J. Esposito as its 2021 Golden Medallion Awardee. The Golden Medallion Award is issued periodically to individuals whose contributions to prosthodontics have been exceptional. The award is funded by the American Prosthodontic Foundation. Dr. Esposito will be acknowledged at the 93rd Annual Meeting of the American Prosthodontic Society in Chicago on February 25, 2021.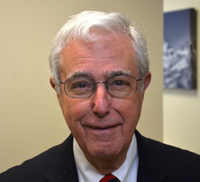 Salvatore J. Esposito, DMD, MS, FICD
Dr. Esposito completed his Prosthodontic Residency at the University of Buffalo and the VA Hospital in 1974 and earned his certificate in Maxillofacial Prosthetics from the Roswell Park Cancer Center in 1975. He is past Chairman of the Department of Dentistry, Oral Surgery and Maxillo-facial Prosthetics at the Cleveland Clinic Foundation, a position he held for 25 years. Prior to that, he was head of the Section of Maxillofacial Prosthetics, Department of Surgery at the Metro Health Medical Center in Cleveland, Ohio. Dr. Esposito has held leadership positions in many Prosthodontic and Dental organizations. He is past President of the American Academy of Maxillofacial Prosthetics, and the Maxillofacial Foundation; the American Prosthodontic Society and its Executive Director for 6 years; and the International Society of Maxillofacial Rehabilitation, for which he was a Founder and its first president. He has also served on the board of directors of the American Cancer Society, the Greater Cleveland Dental Society, The Ohio Dental Society and the Editorial Counsel of the Journal of Prosthetic Dentistry. In addition he is a fellow of the Academy of Prosthodontics and the International College of Dentistry. Dr. Esposito is an adjunct Associate Professor at the Case Western Reserve School of Medicine and Dental Medicine and has been a visiting professor at the UCLA and SUNY at Buffalo Colleges of Dentistry and the University of Turin in Torino, Italy. He has lectured worldwide on the subjects of complete and implant retained dentures as well as the prosthetic rehabilitation of patients with head and neck deformities. Among his many awards are the Andrew J. Ackerman Award for outstanding service to the specialty of maxillofacial prosthetics, the Thai (Thailand) Prosthodontics Award, and the Founders Medal from the international Society of Maxillofacial Rehabilitation. He has been recognized as one of the top 100 dentist in the U.S. He is the co-author of the textbook titled Maxillofacial Rehabilitation, and has over 50 published articles and book chapters in medical and dental literature. For the last 15 years Dr. Esposito has practiced full time privately in Beachwood, Ohio where his practice is limited to complete dentures, implant supported prosthetics and the prosthetic management of patients with head and neck deformities.
Previous Golden Medallion Award Winners
Dr. Baldwin Marchack - 2020
Dr. Carlo Marinello - 2019
Dr. John Beumer - 2018
Dr. Lee M. Jameson - 2017
Dr. Harold Preiskel - 2016
Dr. Gerald Graser - 2015
Dr. Gary Goldstein - 2014
Dr. Yasumas Akagawa - 2013
Dr. Tomas Albrektsson - 2012
Dr. Thomas Taylor - 2011
Dr. Charles Goodacre - 2010
Dr. John W. McLean - 2009
Dr. George Zarb - 2008
Dr. Howard A. Landesman - 2007
Dr. Peter E. Dawson - 2006
Kenneth D. Rudd Award
The American Prosthodontic Society (APS) has selected Vincent Fehmer, MDT, as its 2021 Kenneth D. Rudd Awardee. The award was developed to promote and encourage dental laboratory technicians and support the advancement of dental technology education. APS, in conjunction with the editorial council of The Journal of Prosthetic Dentistry, presents this award to a certified dental technician or dentist who has made a significant contribution to the advancement of prosthodontics and dental laboratory communities. He will be acknowledged and presenting at the 93rd Annual Meeting of the American Prosthodontic Society in Chicago on February 25, 2021.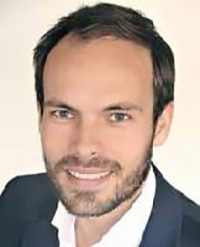 Vincent Fehmer, MDT, Switzerland
Vincent Fehmer received his dental technical education and degree in Stuttgart, Germany in 2002. From 2002 to 2003, he performed fellowships in Great Britain and the US in Oral Design certified dental technical laboratories. From 2003 to 2009, he worked at an Oral Design certified laboratory in Berlin, Germany - The Dental Manufaktur Mehrhof. In 2009, he received the degree as an MDT in Germany. From 2009 to 2014, he was the chief dental technician at the Clinic for Fixed and Removable Prosthodontics in Zurich, Switzerland. Since 2015, he is dental Technician at the Clinic for Fixed Prosthodontics and Biomaterials in Geneva, Switzerland and runs his own laboratory in Lausanne Switzerland.
MDT Fehmer is a Fellow of the International Team for Implantology, an Active member of the European Academy of Esthetic Dentistry (EAED), and a member of the Oral Design group, the European Association of Dental Technology (EADT) and German Society of Esthetic Dentistry (Deutsche Gesellschaft für Ästhetische Zahnheilkunde, DGÄZ). He is active as a speaker on a national and international Level. Mr. Fehmer has received honors like the prize for the Best Master Program of the Year (Berlin, Germany). He has published numerous articles within the field of fixed prosthodontics and dental technology.
Generous funding of this award is provided by the Editorial Council of The Journal of Prosthetic Dentistry.

Previous Kenneth D. Rudd Award Winners:
Mr. Andy Jakson- 2020
Mr. Luke S. Kahng - 2019
Dr. Edward A. McLaren - 2018
Mr. Dene LeBeau - 2017
Mr. Walter Gebhard - 2016
Mr. Enrico Steger - 2015
Mr. Robert Kreyer, CDT - 2014
Ms. Elizabeth Curran, CDT, RDT - 2013
Mr. Arnold Wohlwend, CDT - 2012
Mr. Vincent V. Alleluia, MDT, CDT, TF - 2011
Mr. Matt Roberts, CDT - 2010
Mr. Willi Geller - 2009
Mr. Roosevelt Davis, MCDT, MS - 2008
Mr. Lee Culp, CDT - 2007
Mr. Robert Berger, CDT - 2006
Mr. Masahiro Kuwata - 2005
Graduate Prosthodontic Research Awards
The American Prosthodontic Society (APS) will hold its 16th Annual Graduate Prosthodontic Research Competition, co-sponsored by The Journal of Prosthetic Dentistry, at the 93rd Annual Meeting of the American Prosthodontic Society which will be held on February 25 and 26, 2021, at the Swissotel in Chicago, Illinois.
Prosthodontic graduate students nationally and internationally are encouraged to participate. Applicants need not be APS Members, however we do invite and encourage
membership
. Oral presentations of 10 minutes in length can range from a topic of original research to a clinical/technique paper to a literature review. It is the intent of this program for the candidates to submit a manuscript to The Journal of Prosthetic Dentistry following the competition. Monetary prizes will be awarded for the three best presentations.
Abstracts must be submitted to Dr. John D. Ball at balljd@umkc.edu by November 30, 2020 for consideration.
The top three selections will be invited to present at the annual meeting.
2020 APS Graduate Prosthodontic Research Awards
Dr. Anvita Maharishi
"Light Transmission and Wear of Translucent Zirconia After Conventional and Fast Sintering Cycle"
Dr. Davide Romeo
"Accuracy of Intra-Oral Scanner Compared to Lab Scanner in Full-Arch Implant Prosthesis"
Dr. David Remiszewski
"Decontamination Protocols: Conventional and 3D Printed Surgical Guides In Dental Implant Surgery"
2019 APS Graduate Prosthodontic Research Awards
Dr. Pooya Soltanzadeh
"An Invitro Investigation of Accuracy and Fit of Conventional and CAD/CAM Removable Partial Denture Frameworks"
Dr. Anvita Maharishi
"Effect of Surface Treatment on Biaxial Flexure Strength of 4 mol% and 5 mol% Ytrria Containing Translucent Zirconia"
Dr. Shivani Karre
"Complications Associated with Maxillary and Mandibular Fixed Complete Arch Prostheses Based on Implant Distribution"
2018 APS Graduate Prosthodontic Research Awards
Dr. Robert Gazdeck
"Computed Tomography Analysis of Reconstructed Mandibles with Fibula Free Flaps"
Dr. Ghaith Darwish
"Improving Polymethyl Methacrylate Resin Using Novel Nano-Ceramic Coating"
Dr. James Lee
"Mandibular Implant-Supported Fixed Prosthesis: A 30 -Year Success Story"
2017 APS Graduate Prosthodontic Research Awards
Dr. Bryan McLaughlin
"Comparison of Fit of Dentures Fabricated by Traditional Techniques Versus CAD/CAM Technology"
Dr. Sergio Florencio, Jr., DDS
"Systemic Evaluation of Fluorescence in CAD/CAM Ceramic Materials"
Dr. Sherif Hosney
"Radiopacity of Resin Cements Using Digital Radiography"
2016 APS Graduate Prosthodontic Research Awards
Brian Goodacre, DDS
"Comparison of complete denture base adaptation between CAD/CAM and conventional fabrication techniques"
Craig Sikora, DMD
"Wear and corrosion at he titanium-zirconia implant abutment interface"
Karnik Shah, BDS
"De-cementation of monolithic zirconia single implant restoration using ER-YSGG laser"
2015 APS Graduate Prosthodontic Research Awards
Lauren Manning, DDS
"Experimental evaluation of discoidin domain receptor 2 as an ideal target for development of disease-modifying osteoarthritic drugs"
Natalie Baker, DMD
"Characterization and biocompatibility of transparent nanotubules on hybrid Ti/ZrO2"
Leandro Carneiro, DDS
"Novel semi-destructive biomechanical osseointegration test"


Excellence in Prosthodontics Award
We have introduced an Excellence in Prosthodontics Award in conjunction with the
Italian Academy of Prosthetic Dentistry
. This Award is open to all members in the APS and is powered by Zerodonto (Free Blog of Dentistry:
www.zerodonto.com
). The contestant may send 2-20 images (JPEG, PNG) and a brief description of the clinical case in English to
zerodonto@gmail.com
. The Evaluation Committee headed by Christian Coachman will select the best three cases on the basis of the following parameters: initial scenario, final result, grading of difficulty, operative sequence, and documentation. The three selected cases will be highlighted on the web for a week and the winner will be chosen by an online vote. The winner will be awarded an invite to Bologna, Italy in November, and Chicago in February for a 10-minute presentation, along with a $500 prize and two complimentary nights of lodging.

Student of Merit Award
The APS offers a special award to the graduating Senior Dental Student who, during the year, has demonstrated the highest level of clinical proficiency and greatest interest in prosthodontic dentistry. The APS Student of Merit Award will include a certificate from the Society and a letter of congratulations. To be involved with this program, Program Directors may fill out the 
Student Award of Merit form
including the name of the student and the date of your awards/commencement ceremony. Forms should be returned to our office prior to April 22.
One award per University per year.
Please include any specific stipulations for awarding commencement prizes to students of your University.