MEET Dr. Gary Gutierrez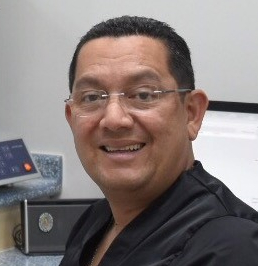 Dr. Gary Gutierrez is a new member of the American Prosthodontic Society who received his initial training in Mexico and now lives and practices in Nicaragua. We are thrilled to have members from all around the world lend their perspectives and experience to APS, and the Society is proud to have Dr. Gutierrez as one of its members.


What about prosthodontic dentistry originally drew you in and what excites you about the field?
"Since I was a kid, I wanted to be a dentist. Once I started dental school, my teachers recognized my abilites in drawing and making wax models of teeth in dental anatomy classes. I used to help my friends with their wax just for pleasure. This is when I realized I wanted to be a prosthodontist."
Why did you become a member of the American Prosthodontic Society?
"I had always considered being a member of such a prestigious society. A few years ago, I met my friend Dr. Mario Gandinni, who invited me to join and come to Chicago every year to update my knowledge at the
APS Annual Meeting
. Now, I'm proud to be part of the APS and meet many doctors and new friends every year at the meeting."
Who has been your greatest mentor thus far in your career?
"I have many mentors all around the world, especially in Mexico, where I became a prosthodontist. To mention one, my good friend Dr. Victor Noguera here in my country Nicaragua has taught me many things that changed the way I practice every day."
What advice would you give to a new dental professional?
"Keep moving, never stop, always continue reading and learning. Everything changes so fast, so don?t be opposed to new technologies, new methods of solving situations, and treatments. I believe in digital dentistry - I think in the near future, it will be an indispensable part of our daily work."
What do you enjoy doing outside of work?
"I love life and my family. I enjoy traveling, seeing new places and meeting new people. I love nature and I enjoy visiting my farm and taking care of my horses in my country Nicaragua."
If you are interested in being featured or know a member who should be featured, please send an email to APS Senior Account Coordinator Lynn Reeves at
Lynn@res-inc.com
.