Webinar Registration | Speaker Bios | Download Zoom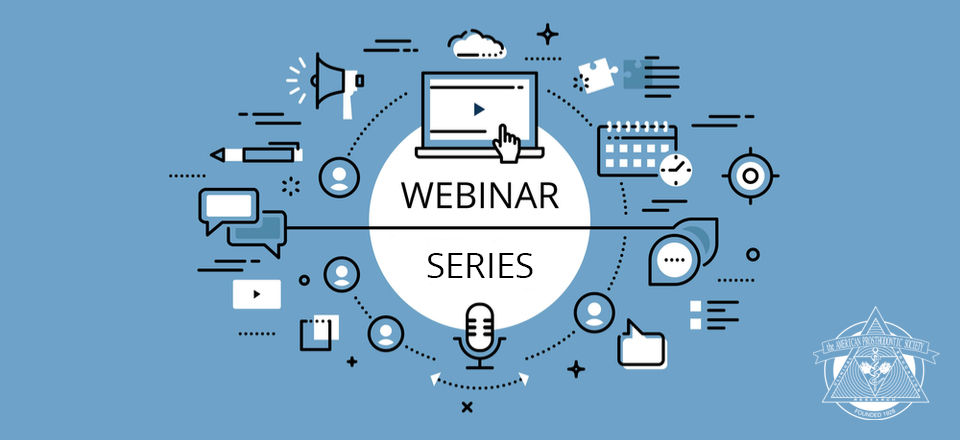 Webinar Series of the American Prosthodontic Society
APS Webinar Goals
Highlight the integration of the dentist's clinical expertise, the most current clinical scientific research, and the patients' needs and preferences
Provide interdisciplinary instruction and advanced knowledge in prosthodontic education
Provide an international representation in the prosthodontic field
Create a platform for distance education, networking, professional interaction and knowledge sharing among participants
Available to APS Members and Non-Members alike. Webinars are no charge to attend.
Continuing Education Credits (CE) are provided free to all APS members
Guests of the APS may opt-in for CE credit for $35 per webinar (Remember to Register on the Zoom Link as well!)

---
---

December 12, 2023
Time 4:00 PM PST / 7:00 PM EST
Dr. Ernesto Lee
Restorative Contours for Immediate Implants: Achieving Optimal Esthetics and Sustained Peri-Implant Health
Registration OPEN! Link to >>ZOOM REGISTRATION

For NON-Members - Purchase CE Credit for December 2023 Webinar only >> REGISTER for CE

---

---
This continuing education activity has been planned and implemented in accordance with the standards of the ADA Continuing Education Recognition Program (ADA CERP) through joint efforts between The American College of Prosthodontists (ACP) and The American Prosthodontic Society.

The ACP designates this activity for 1.00 continuing education credits.

---
APS 2023 Past Webinars:

APS 2022 Past Webinars:
APS 2021 Past Webinars:
APS 2020 Past Webinars:
This list is subject to change