The American Prosthodontic Society: Focused on the Future of Prosthodontics
By Todd A. Fridrich, CDT, FNBC
This article appeared in the June/July 2016 issue of Journal of Dental Technology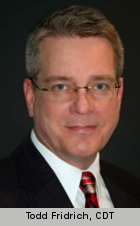 Did you know that there is a dental society that views clinical and technical members as equals? Would you be interested in an organization that has structured its membership to honestly embody the team approach philosophy? Can you imagine a meeting where technicians interact with colleagues as peers and not affiliates?
Technicians as Equal Peers
Recognized as a leader in team oriented dentistry, The American Prosthodontic Society set a new standard for all dental organizations by elevating technicians to equal status within the society. In 2007 the APS established full membership with voting rights to all dental technologists. While most societies offer alliance or affiliate memberships, the APS demonstrated its commitment to dental technicians by rewriting its mission statement to reflect the importance of the technologist?s contribution to patient treatment.
To promote the advancement of the discipline of prosthodontics by integrating the generalist, specialist and dental laboratory technologist in a manner that will continuously seek improvement of patient treatment. We will accomplish this through education and research.
Membership, Meeting or Both?
A membership to the APS opens opportunities for personal and business growth through networking and continuing education. The timing of the Annual Scientific Session meshes perfectly many of the Chicago midwinter programs and it is an ideal anchor meeting for LMT Lab Day. There is simply no better way to head into a manufacturer driven marketplace than to start with a unbiased scientific session. The program this year is entitled: At the Crossroads of Discovery: Technology and Art. It will feature Oral Design member Jungo Endo and fellow technologist?s Robert Kreyer and Peter Anglelus.
Recognizing Technical Contribution
In addition to a strong technical podium presence, the dental technologist is further recognized at the Annual Scientific Session by the presentation of the
Kenneth D. Rudd award
. Established in 2004, the achievements of an outstanding dental technologist are honored for their contribution to the advancement of the profession. A few recipients of note include Masahiro Kuwata, Willi Geller and most recently Walter Gebhard. Nominations are accepted throughout the year.
Join Me, Join Us
As a fellow dental technician and Vice President of the APS, I was motivated to share my personal experience since it is the first dental society to support a path of participation and leadership for all members. In the APS, technicians not only attend meetings, we learn, we share and we shape the future of the organization. I personally invite you to join me in a prestigious forward thinking organization that dates back to 1928.
Apply for membership
and become part of the The American Prosthodontic Society. Together we will enjoy professional networking and share an unsurpassed educational experience. Take the first step today.
Learn more about
membership in the APS
Check us out on the
APS Facebook Page